When you gotta' go, you gotta' go. And in some school buildings, it's not necessarily easy to go.
There are numerous situations where schools may require extra temporary bathrooms from time to time - and it's crucial to have a solution ready to deploy when necessary. In this post, we'll discuss why mobile restroom trailers make for that ideal solution.
Why Should My School Consider a Portable Restroom Trailer?
There are a few situations where it makes sense to consider a portable restroom trailer. Here's a closer look at some of the situations that could warrant it:
A school under construction
Public schools these days run their districts like businesses, and one of the key ways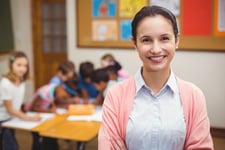 districts upgrade buildings and building amenities is by passing bond programs to fund improvements. Many improvements often involve new construction or extensive renovations. If any of these improvements render any existing restrooms out of order, it's up to the school to come up with an alternative. Portable restroom trailers outside of classroom wings are one solution.
School expansion
A growing student body means that there's a need for more classrooms. And more classrooms mean there's a need for more restrooms. If there's any type of temporary portable classroom pod brought in to accommodate growing student bodies, portable restroom trailers make for a great solution.
Repairs or damage
School buildings are susceptible to experiencing many of the same issues that homes and other properties are. A roof leak could require water damage restoration and repair in or around a bathroom. Damage to toilets or sinks could close existing bathrooms. In either case where repairs or restoration may take several days or even several weeks, schools need to provide alternative restrooms. Portable restroom trailers can help
Key Features of Restroom Trailers
In most cases, students and staff members will find that portable restroom trailers are just as good - if not even better - than the restrooms available for use within the school building itself. Here's a look at some of the key features you'll find in a restroom trailer:
Creature comforts: Trailers come with both heating and air conditioning so students and staff can stay comfortable using the restroom at all periods of the year.
ADA accessibility: Portable trailers can even be used by handicapped students, as they're ADA accessible.
Portable: Portable restroom trailers can be parked anywhere on the property that administrators like. They're also able to be easily moved to other locations if needs change.
Spacious, luxurious interiors: Portable restroom trailers offer the full line of amenities that students and staff would find in any of the bathrooms within the building (i.e., flushing toilets, hot water, etc.)
Flexible: From 12-foot to 28-foot trailers, at Texas Loo we have a variety of options so you can select the one that best suits your needs.
Contact Texas Loo

Today

For more information on our portable restroom trailers and why they might make sense for your school building under the right circumstances, contact us today.