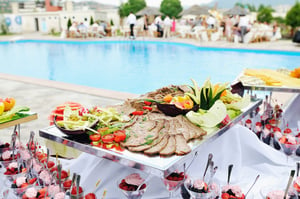 Summer is almost over, but there's no better time to run an outdoor event. In Texas, Louisiana and Oklahoma, the crisp, cool autumn season provides a perfect opportunity to enjoy some fresh air. Whether you're looking to hold a party, a business event or even a wedding, here are four of the most important things you need to consider about running an outdoor event:
Staying Compliant
The first thing you must do when planning an outdoor event is to make sure you're allowed to actually run it. Apply for your permit as soon as you possibly can. Once you have that in hand, make sure to review all the necessary laws and ordinances. Are there limits to the amount of noise you can make? Are you allowed to serve food and alcohol? What are the pertinent safety codes? If you don't handle this with diligence, your entire event could get shut down.
Renting Tents
Tents can be critical to the success of an outdoor event. In warmer months, they provide critical relief from the sun. In case of inclement weather, they provide protection from the rain. They'll even help you contain noise levels if you're trying to stay compliant. No matter what your event is, you'll want to include at least one large tent just in case.
Feeding Everyone
Food is often at the center of an outdoor event, and you have lots of options! To keep your own costs down, you can bring in local restaurants or food trucks to sell food at the event. For a black-tie event, find a local caterer who has experience working outdoors. Of course, you don't want to overlook the idea of having a good old-fashioned barbecue. Nothing beats the smell of smoked meat in the air!
Providing Proper Restrooms
A luxury restroom trailer is an elegant solution to one of an outdoor event's biggest hassles. For many outdoor events, you want to go above and beyond a typical port-o-potty. They're cramped and uncomfortable. During the summer, they get extremely hot very quickly. For certain events, like a wedding or a black-tie gathering, they're extremely out of place. Luxury restroom trailers are a much better option. They're comfortable and can be temperature-controlled. They have room for multiple stalls, avoiding long lines. There are working sinks so people can easily wash their hands. There are plenty of different options, depending on your needs and the number of guests you have. A 6-Stall Presidential, for example, can accommodate events of 400 guests, while a 9-Stall Presidential comes with four female stalls and five male stalls and can accommodate a much larger event. You can select a stand-alone ADA Single Room to go along with larger trailers, or select a larger ADA-compliant stall. There's even an option for a trailer with working showers!

Running an outdoor event is a major responsibility. Let The Texas Loo help you handle all your portable-restroom needs. If you're in Texas, Louisiana or Oklahoma, simply click here to reach out to us. Or give us a call at 832-283-2184.