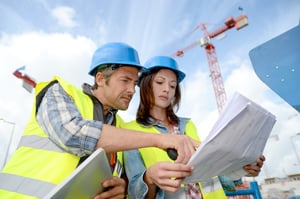 It isn't always convenient to find a public restroom when no permanent facilities are available at your location. Long-term restroom facility rentals are the ideal solution to this problem. It's especially important in a work environment to provide a clean and comfortable restroom nearby to keep employees happy and productive. However, this isn't the only situation when you might need to consider this solution. We outline the five most common below.
On a Worksite Location
Working out on location (many jobs in the oil and gas industry, for example) is a 24-hour-a-day, seven-day-a-week operation until the project is complete. While the same crew members won't be on staff all hours of the day and night, you need to make restrooms complete with toilets and sinks available to your workers. If you have both men and women on staff, you also need to consider privacy.
Construction Sites
Even though a homeowner might allow your crew members to use his or her personal bathroom, it's considered poor manners to ask. After all, people don't want construction workers walking in and out of their home all day and also want to protect their own privacy. A better solution is to set up a portable stall with enough toilets and sinks to accommodate your workers. The same goes for commercial construction jobs, where unlike a personal residence there is no bathroom at all, so rentals are the only option.
Commercial Bathroom Remodel
If you are working on remodeling the bathroom of a commercial building, retail store or restaurant, your employees will need someplace to use the bathroom in the meantime. If the remodel takes place in a small building with no other restrooms available, customers and employees will also need another alternative until your crew completes remodeling of the original bathroom.
Disaster Cleanup
A natural disaster such as a tornado, hurricane, flood or fire can require weeks or months devoted to cleanup efforts. Since most of the work takes place outdoors, people assisting with cleanup need handy access to restroom facilities. Renting a portable restroom trailer from The Texas Loo will help to make a difficult situation a bit easier when people don't have to leave the site to use a restroom.
A Public Event Expected to Last Several Weeks
Now that summer is almost here, many Texans have their hearts set on attending festivals, fairs and other events that typically take place over several days if not weeks. Most events of this nature do not have the convenience of year-round setup and require assembly and disassembly of the attractions. These temporary but long-term events require an investment in several portable restroom stalls to accommodate the public demand for restrooms.
Contact Us Today to Learn More About Your Rental Options
The Texas Loo offers portable restroom options in sizes ranging from 10 feet to 24 feet. The smallest option is a single-stall handicap-accessible restroom while the largest is a satellite spa with 10 restrooms, including five for women, two for men, and three urinals. If you're in charge of obtaining portable restrooms for your company or event, contact us today to get a recommendation and price quote.