With some of the country's largest cities and a population of just under 30 million people, there's always something happening in the Lone Star state.
Here are a select few of some of the best upcoming festivals the state of Texas has to offer.
TexasFest Dallas
June 4, 2022
Silver Lake Marina and Event Center - Grapevine-Southlake, TX
The TexasFest-Dallas will take place at the Silver Lake Marina and Event Center on Lake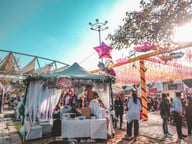 Grapevine. The festival will include several major concerts, more than 200 artists and crafters, water events, vintage cars, dog shows and cowboy shows. There are more Texas-themed rides, games, and fun-filled attractions than you'll know what to do with. The TexasFest will include the acclaimed TexasFest Food Garden with great food and award-winning beers. This event will feature multiple national recording artists on the main stage, including some of the state's most talented visual artists displaying a little taste of Texas culture.
The best part about the TexasFest is that it's completely free!
TexasFest Dallas/Frisco/Little Elm
June 18, 2022
If you're in the northern Dallas area, the TexasFest will also be coming to the Dallas/Frisco/Little Elm area on June 18 at Little Elm Park. See the event details above for TexasFest to learn more!
Batfest - Night of the Bat
August 27, 2022
Congress Avenue Bridge - Austin, TX
If central Texas is your cup of tea, the Batfest in Austin is the event for you.
This unique festival takes place right on the Congress Avenue Bridge in Austin, and boasts more than 15,000 people, 100 arts/crafts vendors, 20 food stands, more than 20 live bands across three stages, contests and prizes, and much more. Even better, the event plays host to the evening flight of more than two million Mexican free-tail bats near the bridge! This family-friendly event draws crowds from all over the state and is sure to be one of the most unique festivals you've ever attended. If you're looking to come when the bats take flight, this usually happens between 7 and 9 in the evening, although you never know exactly when the bats will show up!
Ripfest
October 1, 2022
Downtown Courthouse Square - Eastland, TX
Looking for some Fall fun in the country? The 42nd Annual RipFest in Eastland, TX is your festival. This festival is held in honor of Old Rip, a horned toad that lived for 31 years in the city's Courthouse cornerstone from 1897 to 1928! This festival begins with a parade at 11 AM, with a legendary annual car show immediately following. The Ripfest promises great food, fantastic music, and good times for the entire family, with some of the best live entertainment around.
Dickens on Cypress Creek Christmas Market
November 11 - 12, 2022
Cypress Creek Christian Church/Community Ctr. - Spring, TX
If you're near the Houston area and want to enjoy a fantastic Christmas festival, this one's for you. This fun-packed event hosts more than 85 booths and is a Christmas festival and market with a distinct Victorian style. You can even dress up in your best Victorian outfit if you want! This event is completely free.