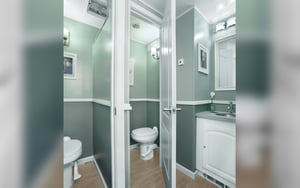 Long-term restroom rentals are ideal for job sites, construction projects, remodeling jobs, and outdoor events that take place over a matter of weeks rather than a day or two. You can think of long-term restroom rentals like renting any other piece of equipment for your employees. It's a simple fact of life that employees that are respected and taken care of will be better able to perform their jobs. When you rent restrooms for your onsite crew, you get a variety of benefits, which are outlined below.
Keeps Workers Happy
Your employees work hard to make you happy. Is it time you showed them the same consideration? When you provide clean, mobile restroom units, your employees will feel like you value them more. You are demonstrating respect for their comfort and well-being by renting portable toilets they can easily access while on the job. In turn, this helps to build and maintain a high level of morale and ultimately helps increase your employee retention rates. Happy employees who feel that they are valued and treated tend to work harder for their boss — you.
Keeps Clients Happy
Your workers should not be infringing on your clients' work area. When you supply portable restroom facilities for your onsite workers, your clients are also happier. While work is being conducted, such as construction, event management, remodels, etc., clients still need to have their own employees conduct business and go about their normal workday. Having workers constantly streaming in and out of company bathrooms is a disruption to the workplace. It also places undue stress on workplace facilities. Your workers are also not dressed for a typical workplace environment. You don't want to have to field client complaints about muddy boot prints and more. Having their own outdoor loos enables workers to take care of necessity without disturbing clients, their employees or their indoor work area.
Improves Onsite Hygiene
When you provide a clean, safe place for your workers to wash up, you are also improving onsite hygiene. Portable restroom trailers have a full washing station areas complete with sinks, running water, mirrors, countertops, cabinets and paper towels. This makes it convenient for workers to properly and thoroughly cleanse hands (and faces) after taking care of necessity. This practice promotes a more hygienic work environment for everyone.
Makes it Easier to Keep up the Pace
If your workers have to constantly take time-outs for bathroom breaks that entail a long walk to an indoor bathroom facility, that takes up a lot of the day. Add up all those minutes and you end up with hours of lost time. When you rent portable restrooms for your crew, you actually take the strain off your workers to keep up the pace. It's easier to get more done in a shorter amount of time when the call of Mother Nature doesn't take half an hour to complete, including the walk to and fro.
Why not take care of your employees when you have a long-term project by renting portable loos? The rental doesn't require any extra work on your part. We'll deliver and pick up with just a phone call from you. Contact us today to learn more.