While summers can be sweltering and uncomfortable for formal outdoor events, winters in Texas are the perfect time to grab your favorite boots, a scarf, a few important people and celebrate. From birthdays to engagements to an intimate Mardi Gras, there are many festivities that can be held outdoors. The key to a successful outdoor event is providing comfort.
The first step to take is finding out what permits you need and what the current local rules are in place. Fill out the proper paperwork and obtain your permit as early as possible. You may need to consider placing tables and chairs so they are appropriately distanced. Are there noise ordinances or restricted hours? Make sure your location allows for the menu you are hoping to serve, particularly when in regards to alcohol. Think about safety and parking. By considering the function at the level you avoid your event being shut down or costly fees.
Renting Tents & Heater
Tents are a worthwhile investment that contributes to the success of an outdoor event.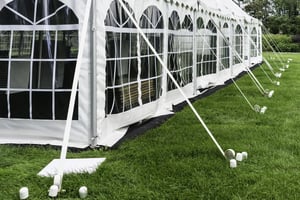 While Houston doesn't frequently get snow, winters can be quite wet and tents offer shelter. They can even help you contain noise if you're trying to stay within a compliant level. No matter what your event is, you'll want to include at least one large tent just in case. Heaters not only provide physical warmth, but add a cozy atmosphere.
Feeding Everyone
Food is often one of the most memorable elements of a party, fortunately you have plenty of options! Whether you order party platters from your favorite local restaurant or hire a food truck, there are many ways to stay in budget and be creative. For a more formal affair you may want to use a caterer with experience serving outdoors. Of course, this is Texas and as you'll already be outside, this may be the time to showcase your own personal brisket recipe.
Providing Proper Restrooms
We can't discuss comfort without mentioning the delicate topic of providing a private place for your guests to take care of their needs. A luxury restroom trailer is an elegant solution to one of an outdoor event's biggest hassles. For an event that stands out from the rest, you'll want to think beyond the expected port-o-potty.
Luxury restroom trailers are a much better option. They are healthy and can be temperature-controlled. They have room for multiple stalls and have working sinks so people can safely wash their hands. There are plenty of different options, depending on your needs and the number of guests you have. The 2 Room Spa is perfect for smaller private events while a 4 Stall Spa can accommodate larger events without compromising security. There are even ADA Compliant options.
Running an outdoor event is a major responsibility. Let The Texas Loo help you handle all your portable-restroom needs. If you're in Texas, Louisiana or Oklahoma, simply click here to reach out to us. Or give us a call at 832-283-2184.