After what has felt like an eternity, events are finally coming back to the Lone Star State for 2022. While certain elements of concerts and sporting events will feel the same, there are some new post-COVID era guidelines that you'll need to keep in mind. Here's what you need to know.
Restrictions Based on County and/or City
The actual restrictions for mask wearing, social distancing, and reduced crowds are dependent on the county or city where the event is taking place. For example, the City of Austin releases a new guide every thirty days on whether to restrict crowds or to require certain aspects of social distancing based on health department recommendations. And Houston requires those working events wear masks and have their temperature checked prior to attendee arrival.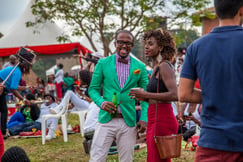 In contrast, some smaller counties and communities have no requirement whatsoever. In those areas, things like sporting events, festivals, and concerts should remain relatively the same as they were before the pandemic.
Not sure what the regulations are for your area? Start by checking with your county health department's website for details. This is usually the best place to find out what to expect before hosting or attending a local event.
Indoor vs. Outdoor Events
It is also worth noting that there's a fairly big difference between the regulations for indoor versus outdoor events. With indoor events, some local jurisdictions require reduced crowd sizes and better social distancing. Others are recommending that visitors wear a mask, while some like the Houston Rodeo give freedom to attendees to use their best judgment to follow CDC recommendations.
For most outdoor events planned for the warmer months, there's little difference in changes as far as pre- and post-pandemic. However, many event planners are boosting the number of handwashing stations and sanitary spaces to help reduce germ spread and meet visitor needs.
Resources for Event Promoters in Texas
The good news is that the Texas Festivals and Events Association has put together a fantastic online guide for event promoters, businesses, and others impacted by COVID-19. This website is updated frequently and includes everything from links with current CDC guidelines to resources on how to keep your attendees notified of changes during these uncertain times. There are also guides on how to cancel a big event should a change in local restrictions occur.
Wrap Up: Big Events Are Back in Texas After a Long Hiatus
As we roll into the warmer months of this year, now is a good time to start planning those summer concerts, festivals, and more. Even though there are different guidelines and restrictions as we move forward into a post-COVID era, there is still a huge demand for this type of entertainment. By paying attention to local guidelines, you can help keep visitors safe while following local health and safety regulations.
Ready to make your next event a hit with the crowd? Get in touch with our Texas Loo team to book luxury mobile restroom trailers—a much better alternative than the traditional port-a-potties.