Businesses of all sizes have to consider the risks of a natural disaster or crisis striking their operations. Whether it is a fire, earthquake, flood or hurricane, a company wants to be able to minimize downtime and bring operations back on track quickly. Emergency management plans are designed to ensure the safety of processes, employees and building facilities to mitigate and manage disasters.
Many emergency management plans focus on four specific stages, although there may be more phases depending on the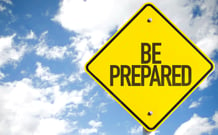 size of the company and its functions. These phases involve mitigation, preparedness, response and recovery. Most of your resources will focus on repairing damages, bringing systems back on line, and getting workers in place to resume functions. However, the employees' needs also should be addressed to create a healthy and safe environment.
Mobile Restrooms Essential During Natural Disasters
Certain emergencies may force water and/or electrical utilities to be temporarily shut down. With hurricane season approaching Texas, your workers will still need to use the restroom throughout the day until the utilities are repaired. Having them travel to other shops, stores or public restrooms off site will only hamper your company's productivity levels.
An onsite mobile restroom will ensure that employees have the means to maintain proper sanitary conditions while working. A luxury mobile bathroom features multiple private stalls to accommodate both male and female coworkers. These brightly lit mobile restrooms have a luxurious interior with wood paneling, faux wood flooring and several sinks with hot water access. These facilities have the electricity and water on hand to accommodate your workers whether for short-term or long-term emergencies.
Providing Restroom Facilities During Major Construction Repairs
Many disasters and crises will also impact the building's structure. Fire and floods can damage storefronts, backroom offices, and other operational areas. Whether the damage is minor or major, the company may still be operating during the time when the construction crew will be performing repairs, renovations and remodeling work after the disaster. In these situations, the restroom facilities may not be accessible to employees.
A luxury mobile restroom offers a place where your employees can maintain productivity without navigating around construction work to reach the bathroom. Since the mobile restroom is located outside, there will also be less dust and noise to disturb workers. These facilities can be kept clean more easily.
Your employees and office stall will also enjoy using these facilities more than just ordinary port-o-potty rentals that only feature the commode area. These luxury mobile restrooms are climate controlled and may feature AM/FM music to make it a pleasing experience. Your workers will not have to share the mobile restroom with the construction workers, as this strategy eliminates long restroom lines.
Texas Loo Is Available During Business Emergencies
Your business operations have to get back up to speed after an emergency. Ensure that your emergency management plan includes mobile restroom solutions so that you can set up the facilities immediately for your workers. Contact Texas Loo for mobile luxury restroom options that will fit your plan strategies.