There are numerous reasons why it is necessary to have a portable restroom at a construction site. Not only does it help keep employees healthy and increase productivity, but it is also required by law.
What are the OSHA Regulations for Construction Sites?
The Occupational Safety and Health Administration (OSHA) requires that job sites have a particular number of restrooms nearby. The size of the crew is a driving factor in the number that is needed.
For sites that have no more than 20 workers, there must be at least one toilet. If a site has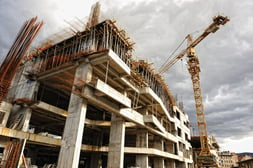 between 21 and 199 employees, the requirement is at least one urinal and one toilet for every 40 workers. Larger sites that have 200 or more employees, one toilet and one urinal per every 50 workers is needed.
The OSHA requirements regarding restrooms don't apply only to the number available, however. The agency also regulates the locations of the restrooms on construction sites too.
OSHA regulations state that the restrooms must be close enough so that it is convenient to get to them. In general, according to the agency's requirements, the toilets would be nearby and convenient if it takes 10 minutes or less to reach them. Use the rule of thumb of no more than 10 minutes of travel time when considering where to place the restrooms.
For crews that are more mobile -- if they move from one jobsite to another daily or even hourly, for example -- the same regulations apply. The restrooms need to be nearby. This means that have to be close enough to be reached in no more than 10 minutes of travel time.
Going the Extra Mile
The OSHA regulations represent the bare minimum that is required on a construction site. In today's environment of staffing shortages and a lack of skilled workers, it makes sense to go above and beyond to provide your employees with an experience that exceeds these minimums.
Choosing portable restrooms that are spacious and clean provide workers with the opportunity to take care of themselves. Not only does this make them happier and healthier, but it can also boost their productivity as well.
It's just as important to ensure that workers have a convenient place to wash their hands nearby. This is required to help safeguard their health after they use the restroom and before they eat.
Going the extra mile and putting your employees health and happiness first demonstrates the stellar integrity of your company. It is a business that clients will remember for the way your workers were treated.
At The Texas Loo, we have a range of portable restroom options that are designed to make the life of your workers better. Our rental comfort stations meet all OSHA standards. Learn more about what we have to offer by contacting us today!