Here at The Texas Loo, every portable toilet and hand wash station we provide needs to be safe and secure. We go a step further by providing accessible toilets and luxury restrooms that are ADA-compliant. If you are concerned with meeting ADA regulations for your construction site or other temporary workplace, let us help you.
About ADA Regulations for Portable Toilets
In order to identify the ADA regulations, we refer to the Americans with Disabilities Act (ADA). This is the legislation that provides legal requirements for services for individuals with disabilities. Typically, for portable toilets, this focuses on handicap accessibility because of physical restrictions associated with restroom access. You must meet these requirements if you are providing a portable toilet for anyone who has accessibility challenges.
How to Meet ADA Compliance
Ideally, the goal with ADA compliance is to provide additional tools for individuals to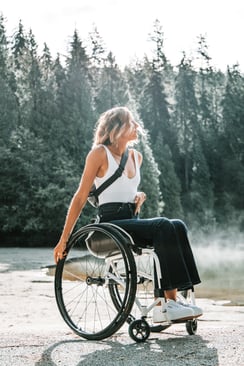 utilize when they are struggling with accessibility. The individual may be wheelchair-bound or they may require increased lighting to help with low-light issues in darker spaces.
Some of the typical features include a wheelchair-accessible ramp up to the entryway of the portable toilet and a hand washing station. An ADA-compliant ramp needs a hand-holding rail that is accessible for wheelchair-bound individuals. In addition, the interior of the restroom should be expansive enough to turn around in a 360 degree circle without bumping into any opening doors while in a wheelchair.
Some other requirements for an ADA-compliant portable restroom are:
ADA compliant labeling using clear signage and placards
Minimum of one toilet that is ADA accessible
Accessible magnetized or hinged locking mechanisms for toilet stalls
Grab bars for holding and lifting individuals
Reinforced unit construction to handle wheelchairs and walkers
How to Find Accessible Portable Restrooms
Every portable restroom facility you rent or buy to install at your construction site will not be ADA accessible. However, you may still be responsible for providing this type of facility for your workers and visitors on the worksite. Therefore, you want to speak with a professional that handles this kind of service, such as the representatives here at The Texas Loo. We offer full-service portable toilets and handwashing stations that meet luxury standards.
It is our priority to ensure that each toilet facility that goes out of our doors is readily compatible to meet the latest ADA regulatory standards. You are able to provide your crew with an ADA compliant toilet and handwashing facilities to best meet the personal health and safety of everyone on the site. Whether you have a specific need for your portable toilets or you are upgrading current facilities to be ADA compliant, we have the best options available in Texas.
Choosing ADA Compliant Portable Toilets
We take pride in providing the most accessible portable toilets and handwashing stations in the nation. Let our team of professionals guide you through the process of securing cleanliness and relief stations on your commercial property. Contact The Texas Loo at 832-283-2184 or email wendy@thetexasloo.com to request services for your facility.